All about Jasmine Plants
This website covers jasmine plants. Explore all of our articles below.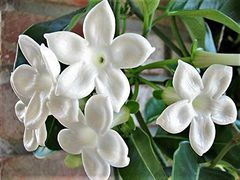 Madagascar Jasmine (Stephanotis floribunda) is a ravishing and everlasting tropical specie native to Madagascar. These jasmine species are grown in sub-tropical and tropical regions where the climate mainly consists of hot and humid, monsoon and cooler periods. These sensuous plants usually fully bloom in Spring, Summer and Autumn where they showcase their waxy and star-shaped flowers. The foliage of this variety makes this vine well worth growing to decorate your favourite places.
Read more