Are you ready to explore the essential tools that can make your gardening journey easier and more productive? Whether you're just starting or have been nurturing your garden for a while, understanding and owning the right gardening tools can be a game-changer. Without them, gardening can be a bit like trying to navigate without a map - it's possible, but you might miss out on the full potential of your garden. But what are the 20 most common gardening tools?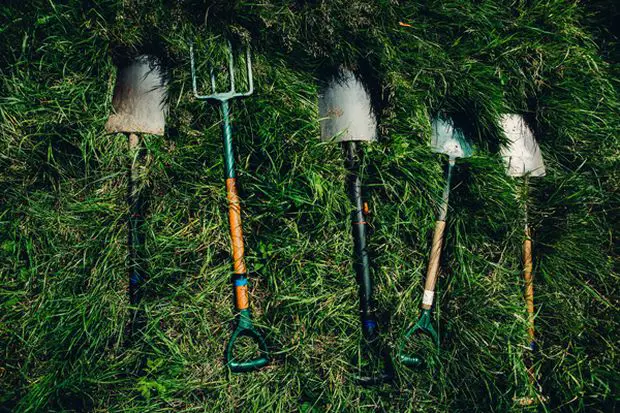 The 20 most common gardening include a trowel, pruners, garden gloves, rake, garden hose, knee pads, scissors, weeder, soil knife, manual pruning saw, and a brush cutter, among others. Each tool serves a specific purpose, making gardening tasks more manageable and ensuring the health and beauty of your garden.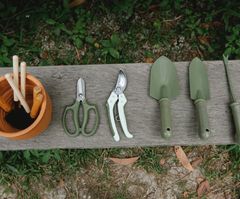 So, why should you consider adding these tools to your gardening routine? We'll explore the details shortly, but the simple answer is that they can make your gardening life more efficient, productive, and enjoyable. Additionally, we'll touch on the downsides of not having these tools, which might just convince you to invest in your gardening toolkit.
Let's begin by introducing you to these 20 indispensable gardening tools, explaining their purposes, highlighting why they're essential, and discussing what you might face without them.
What are the 20 most common gardening tools to have? The complete list of essentials
Each of these tools has its place in a well-equipped garden, making tasks more efficient, comfortable, and enjoyable. Skipping any of them can lead to challenges, such as physical strain, inefficient work, or missed opportunities for plant care and maintenance.
Garden Gloves
Gardening gloves are your best pals in the garden, offering a shield for your hands against dirt, thorns, and blisters that often accompany hours of gardening.
Without these handy gloves, your hands can end up stained, scratched, and feeling sore. Plus, dealing with grimy hands afterwards can be quite a hassle.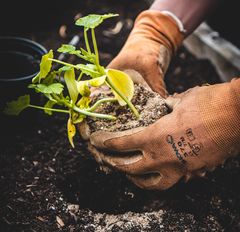 Investing in a good pair of gardening gloves ensures that your hands stay protected and clean, making your gardening experience more comfortable and enjoyable. I can totally recommend these High grip Garden Gloves for Men and Women gloves.
High grip Garden Gloves for Men and Women gloves
These practical gloves are designed for everyday tasks, offering an exceptional grip with specialized coatings. They are versatile and durable, suitable for various jobs, including gardening. These dependable gloves provide reliable protection against scratches and minor injuries, and they come in different sizes to fit both men and women.
Their water-resistant nitrile coating keeps your hands dry, while the sturdy nylon shell keeps dirt and bugs out while allowing your hands to breathe. In a nutshell, these gloves are your trusted companions for a range of practical tasks.
Some gardeners like myself love the touch of the soil with bare hands as it makes me feel more connected to the land. However, when it comes to practical gardening, not wearing the right gloves can actually be a safety concern.
While using a hand shovel might not seem like a tough job initially, after a few hours, your hands can start feeling the strain. If you'd rather avoid those pesky blisters, seriously considering a pair of gardening gloves is a smart move.
Hand Trowel
One of my personal favourites, especially when it comes to redesigning garden spaces or even indoor planting, is the hand trowel. It's an indispensable tool for digging holes for your beloved plants and flowers and filling them back in once you're done.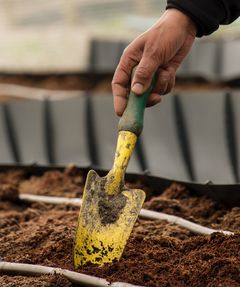 It's also your trusty ally when it comes to weeding, ensuring your garden plots remain pristine. I've even used it for some edging work when needed – there might be more specialised tools for this task, but in a pinch, a hand trowel gets the job done.
As an avid gardener, I recommend you get yourself the best Hand Trowel kit
What I love about it is that it is perfect for tackling a range of gardening jobs like trimming, digging, weeding, loosening soil, aerating, and transplanting, this tool has got you covered. What sets it apart is the ergonomic design and soft-grip handle crafted from top-notch TPR material.
This thoughtful design reduces the strain on your wrist and hand, making your gardening tasks more comfortable.
The tool itself is built to last, with heavy-duty cast aluminium that's both incredibly durable and resistant to rust or breakage. You won't have to worry about it giving up on you halfway through a task.
Even the packaging is eco-friendly, crafted from recyclable paper material. This not only keeps your tool safe but also helps reduce environmental pollution. It's a win-win for both you and the environment.
Visualise attempting to plant a delicate seedling or tackle stubborn weeds without a hand trowel. It's like attempting to write without a pen. Hand trowels are your go-to for creating those small planting holes, transplanting, and banishing those persistent weeds. Not having one on hand can lead to frustration, reduced precision, and slower progress.
Pruning Shears
Pruning shears are like the garden's version of scissors, allowing you to effortlessly trim and sculpt your plants for healthy growth and exquisite aesthetics.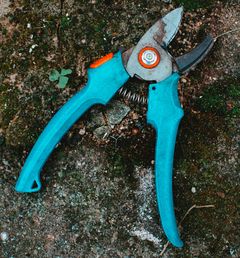 Without these trusty tools, your plants could easily turn unruly and overgrown, obstructing sunlight and airflow—far from ideal for their well-being and visual appeal.
In my own garden, where I have delightful Star Jasmines, Cherry Blossoms, and various other charming yet occasionally pesky plants, I cannot stress enough how indispensable a high-quality pair of sharp pruning is.
After a winter season when these branches tend to run wild, I always ensure I have a reliable pair of pruning shears resting in my garage, poised for action.
However, it's worth noting that these shears must remain sharp, especially when dealing with smaller trees. It's a wise practice to sharpen them each spring to save yourself from the frustration of attempting to prune with dull shears. Sharp shears ensure that your gardening tasks remain smooth and efficient.
Garden Hose
A garden hose is like the lifeline of your garden, ensuring your plants get the water they need consistently. It's also handy for cleaning your garden tools and equipment.
If you don't have one, you might find yourself lugging around a bucket or watering can, which can be time-consuming and not so efficient, especially for larger gardens.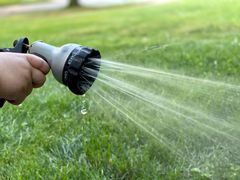 Inconsistent watering can stress your plants and lead to smaller yields.
Having a reliable garden hose is essential!
Rake
Think of a rake as your trusty garden cleanup crew, tirelessly working to level soil, clear away leaves, and eliminate debris. When you don't have a reliable rake, your garden can quickly turn into a chaotic, uneven terrain, posing challenges for planting and maintenance. Moreover, leaves and debris left unattended can smother your plants and attract unwanted pests.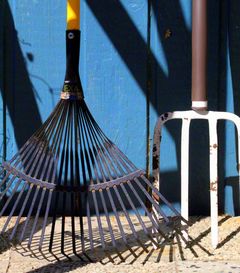 The most popular and effective ones in the market are the durable garden rake needed in every garden!
For those of us who spend ample time in the garden, the routine of raking leaves in the fall and again in the spring is a familiar and essential task. To tackle this job effectively, nothing beats a leaf rake with its generous, fan-like blade. Typically, the bristles are crafted from a soft, flexible metal or plastic material that lets you gently rake away debris while leaving the soil undisturbed.
Leaf Blower
A leaf blower simplifies the task of garden cleanup, especially in the autumn months when leaves are abundant. It swiftly and effectively removes leaves and debris, making the job effortless. Without one, you'd find yourself manually raking leaves, a process that can be both time-consuming and physically demanding.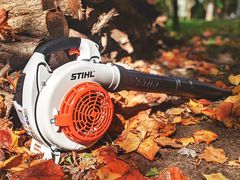 When it comes to dealing with leaves in your yard, there are a couple of approaches, and it often boils down to personal preference.
The leaf blower streamlines the process, swiftly gathering leaves into a neat pile where, with a simple flick of a switch, it promptly vacuums them into a bag, ready for disposal on the compost heap.
To me, there is no other way! It is clean, effective and not that much time-consuming. My favourite one is the Makita DUB185Z 18V Blower Cordless leaf blower
It is a small tool, that takes blowing efficiency to a whole new level with a remarkable increase in air volume. The secret lies in the expanded air outlet diameter, which results in a substantially larger air volume. This means you can count on a maximum airspeed of 98 meters per second, ensuring swift cleanup on the job site.
What's even better is that this tool is designed with user convenience in mind. It's compact and lightweight, allowing for easy single-handed operation. Plus, you'll appreciate its eco-friendly design with zero emissions and minimal maintenance requirements. No need for gas or oil – it's hassle-free and environmentally responsible.
Wheelbarrow
A wheelbarrow is your garden's heavy lifter. It makes transporting soil, mulch and plants a breeze. Without one, you might find yourself lugging heavy loads by hand, which can be physically taxing and time-consuming.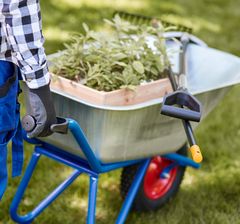 Plus, it can limit the amount of work you can accomplish in a single gardening session.
A Wheelbarrow is your best friend in the garden trust me!
Garden Pruner
Garden pruners are like the hairstylists for your plants. They help you trim thicker branches and shape your trees and shrubs.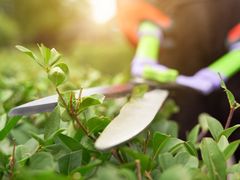 Without them, your plants might become unruly and less aesthetically pleasing. Overgrown branches can also block sunlight, affecting plant growth and overall health.
I am obsessed with my Bosch Garden Pruner
It is a nimble cordless chainsaw tailored for both pruning and firewood tasks, This tool boasts a featherlight build that ensures easy handling. Its compact and maneuverable design allows for efficient pruning from various angles and positions, making it a versatile choice for garden maintenance.
Additionally, it features a Stabilising Tip Protector equipped with Gripping Teeth for added control and precision.
It is the perfect tool for all gardens!
Garden Shovel
This tool is a real workhorse in the garden, making tasks like digging sizable holes, soil relocation, and tree or shrub planting a breeze.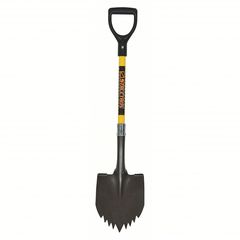 Without it, digging holes for larger plants can quickly turn into strenuous labour, and transplanting becomes a daunting task.
A full-length curved blade digging shovel is an absolute essential in most garden sheds, and it's not hard to see why. If you aim for a beautiful garden, this tool is a must-have.
It's incredibly versatile, perfect for heavy-duty digging jobs like planting trees and large shrubs. Moreover, it's a time-saver, allowing you to work through a substantial amount of soil quickly.
In early spring, I usually use this tool to break up the soil, preparing it for planting to achieve a fine and smooth finish texture that's perfect for planting.
Weeder
It is a small yet invaluable hand tool designed for the precise removal of weeds. Its forked end makes it easy to dig around individual weeds and extract them right from the root, preventing their return.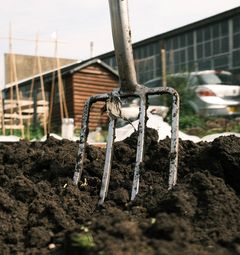 Get yourself the best weeder in the market!
While weeding with this tool may take some effort, it provides a chemical-free and eco-friendly solution for maintaining a healthy garden.
When it comes to dealing with weeds without resorting to harmful chemicals that can harm your garden, the ideal solution lies in a straightforward weeder. These compact hand tools feature a forked end that's perfect for precisely digging out individual weeds and ensuring you remove them right from the root.
When wielded correctly, you can effectively eliminate these pesky plants, preventing them from making a comeback. However, it's important to be prepared for some elbow grease – weeding one at a time can be a bit time-consuming.
Garden Scissors
Scissors, though frequently underestimated, are an indispensable tool for any dedicated gardener. The rationale is straightforward, garden scissors are an incredibly versatile piece of equipment capable of tackling a wide range of simple tasks.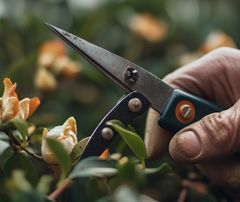 Also, don't forget to always keep your scissors clean and sharp! For that take advantage of my recommended garden scissors sharpener to always have your tools neat and ready for the job!
They come in super handy for tasks like delicately opening seed packets, and precision pruning of small flowers, and in a pinch, you can even use them to carefully uproot weeds if no other tools are available.
Garden Fork
A garden fork is designed for turning soil and mixing in compost, which helps improve aeration and nutrient distribution. Without one, your soil might become compacted, making it hard for plants to access essential nutrients and water. Compacted soil can hinder root growth and overall plant health.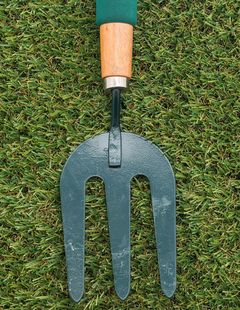 If you need to break up the soil a standard garden rake is okay, but a digging fork is better if you want to get real penetration. You can really get some depth with one of these.
Soil Knife
A soil knife, also known as a Hori-Hori in some gardening circles, is a highly versatile and somewhat underrated tool for gardeners. Originating from Japan, this unique tool is characterised by its dual-edged serrated blade, which is often sharp on both ends and pointed at the tip.
A soil knife is ideal for a variety of gardening tasks that involve digging, cutting, and slicing. Gardeners often rely on it for activities like weeding, transplanting, and dividing plants. The serrated edge is particularly useful for cutting through tough roots and thick stems, while the pointed tip allows for precise work in tight spaces.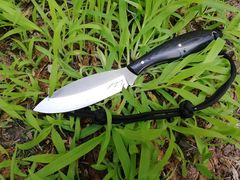 Despite its incredible utility, a soil knife is not commonly found in every gardener's toolbox, which is a missed opportunity given its versatility and efficiency. Just remember, due to its sharp edges, it's important to handle and store a soil knife safely, especially if there are small children around.
Manual Pruning Saw
A manual pruning saw is a compact yet indispensable tool for gardeners and outdoor enthusiasts. With its razor-sharp blade and ergonomic handle, this saw allows for precise and controlled cutting of branches and limbs.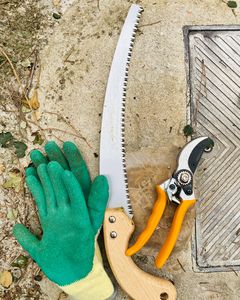 It's the go-to choice for tasks like pruning trees and shrubs, shaping hedges, and removing deadwood. Its lightweight and portable design makes it easy to carry around the garden or into the woods, making it a versatile companion for outdoor projects.
Maintenance is minimal, with periodic sharpening ensuring continued effectiveness. Whether you're a seasoned gardener or an occasional pruner, a manual pruning saw is a reliable tool for keeping your outdoor spaces well-groomed and vibrant.
When it comes to tackling unruly branches and overgrown shrubs, a manual pruning saw is the tool of choice. Its finely crafted blade, equipped with sharp teeth, effortlessly slices through wood, providing clean and precise cuts.
With a comfortable grip and lightweight design, it offers excellent control and maneuverability, making it ideal for delicate pruning jobs as well as more robust cutting tasks.
From shaping your garden to maintaining the health of your trees, a manual pruning saw is an indispensable companion that ensures your outdoor spaces remain well-kempt and flourishing.
Lawn Mower
A lawn mower is an essential tool for maintaining a neat and well-manicured lawn. This machine, equipped with a rotating blade, efficiently cuts grass to a uniform height, leaving your yard looking tidy and inviting.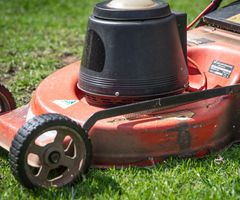 Lawnmowers come in various types, including push mowers, self-propelled mowers, and riding mowers, catering to lawns of all sizes.
The one that I can hands-down recommend is the Bosch 1400W Corded Electric Lawn Mower
They offer convenience and efficiency, saving homeowners valuable time and effort in lawn care. Regular mowing not only enhances the appearance of your yard but also promotes healthier grass growth by encouraging thicker and more resilient turf.
In addition to their aesthetic benefits, lawnmowers contribute to the overall health of your lawn by preventing the overgrowth of grass, which can lead to pest infestations and disease. These machines are available in a range of cutting widths and power options to suit different lawn sizes and terrain types.
Proper maintenance and occasional blade sharpening ensure that your lawn mower continues to provide excellent performance, making it an indispensable tool for anyone looking to maintain a lush and beautiful lawn.
Knee Pads
Knee pads are like your garden's cushioned seats. They provide comfort and protect your knees while you kneel or crouch in the garden. Without them, extended periods of kneeling can strain your knees and limit your gardening time.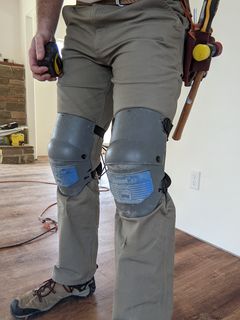 If a stool is not that comfortable for you, you may want to consider a good pair of garden knee pads. Kneeling down to dig in the garden will take its toll on your kneecaps over time. If you just can't stand the pain in your knees any longer it's definitely time for a pair of knee pads.
Garden Twine
Garden Twine is a versatile helper for staking plants, securing vines, and various garden tasks.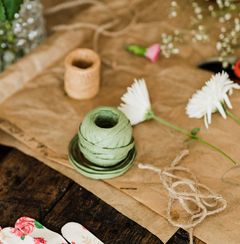 It's like the string in your toolkit, and without it, you may struggle with supporting plants and keeping them upright.
Hoe
A gardening hoe is a versatile tool that serves multiple purposes. It's great for weeding and preparing your soil for planting. Without a home, weeding becomes a manual and time-consuming task.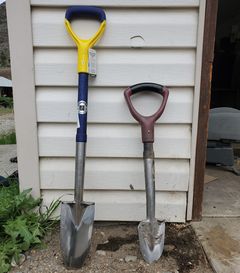 Plus, properly prepared soil can make a big difference in your garden's productivity. Using a hoe to create tidy rows for planting can also help with plant spacing and organisation.
Brush Cutter
A brush cutter is a more robust tool designed for tackling rougher and overgrown areas.
For additional details, you can refer to our comprehensive guide on the top-rated brush cutters available.
One limitation of these machines is that they typically leave the weed roots intact, allowing for regrowth.
Digging Shovel/Spade
A digging shovel, also known as a spade, is a quintessential tool in any gardener's arsenal. With its flat, sturdy blade and long handle, it's the go-to choice for various digging and soil-moving tasks.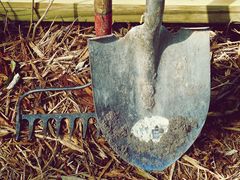 Whether you're planting flowers, shrubs, or vegetables, turning soil, or edging your garden beds, the digging shovel is your trusted companion.
Its design allows for efficient cutting into the earth, lifting soil, and transferring it to the desired location. Some shovels even come with serrated edges, adding versatility by allowing you to cut through roots or compacted soil with ease.
When it comes to versatility in the garden, the Digging Shovel stands out as a true workhorse. Its robust construction and straightforward design make it a must-have tool for both novice and experienced gardeners.
With proper care and maintenance, a quality digging shovel can serve you well season after season, making it an indispensable part of your gardening toolkit.
Final thoughts
As we explore the world of gardening tools, it becomes clear that each tool serves a unique purpose, contributing to the success and beauty of your garden. From the humble trowel for delicate planting to the mighty lawn mower for maintaining a lush lawn, these tools are the unsung heroes of your outdoor space.
These tools not only make gardening tasks more manageable but also help you achieve better results. Whether you're a seasoned gardener with years of experience or a novice just starting, investing in quality gardening tools is an investment in the health and aesthetics of your garden.
Remember that the 20 most common gardening tools we've discussed here are the building blocks of a thriving and rewarding garden!