Jasminum nitidum, more commonly known as Angel wing Jasmine plant is a jasmine specie from the genus jasminum that belongs to the Oleacea family. Angel wing Jasmine is a vine native to Papua New Guinea's Admiralty Islands in the southwestern Pacific Ocean. It is an attractive and exquisite scented shrub which displays a unique type of waxy and pinwheel like flowers with an enticing fragrance. It is frequently found in urban areas or around living spaces like gardens and parks. It is used as a filler between more upright flowering shrubs, given its decorative potential. Angel wing jasmine plant is a fast growing vine that can reach the 20 meters in height. It usually displays a dark green foliage and creamy, waxy and pinwheel shaped flowers which blossom in the spring time.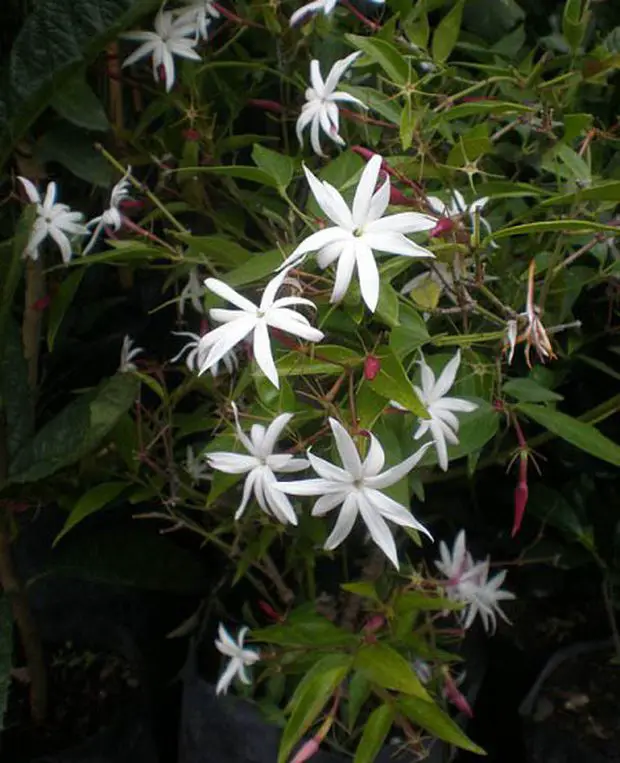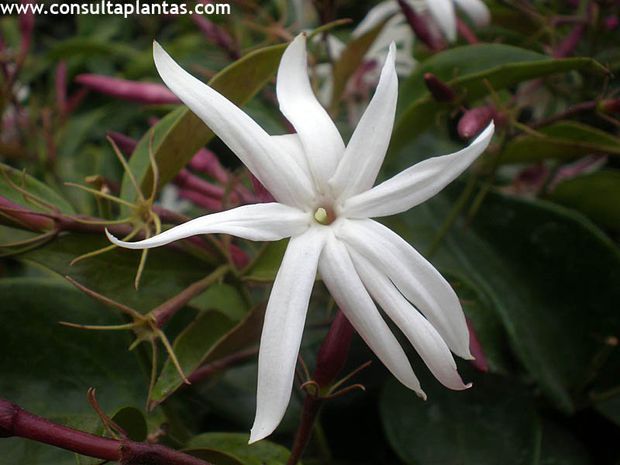 Watering and humidity
When it comes to optimising how to care for angel wing jasmine, we need to ensure that our shrub is planted in well drained, semi hard and loose soil as well as supplied with regular fertiliser. Angel wing jasmine doesn't like too wet soil, so it is important to provide it with a regular to low watering regime of once every three to five days, ensuring that the soil has drained well before pouring more water. If you don't get this tip nailed down and you overwater your angel wing jasmine, in a matter of days, you will notice how some of the leaves will start turning yellow and the roots will star to rot and wilt. Conversely, if you underwater it and your soil gets really dry, that ever deep dark green foliage will start loosing that vibrant colour and will begin to display weak and stunned appearance. Angel wing jasmine plant, just like most of jasmine varieties, is a tropical vine, loving its moist and humid environment for proper growth and thrive of its flowers. This can be pretty tricky, especially, in the summertime when the sun and temperature are the highest and although, we water our plant regularly the foliage just gets too exposed and dry, compromising the integrity of our plant. For this purpose, it is important to spray some water around the leaves, everyday, preferentially, in the mornings so that there is enough time for the excess of water to evaporate, as we don't want a super drenched plant leading to a mould infection.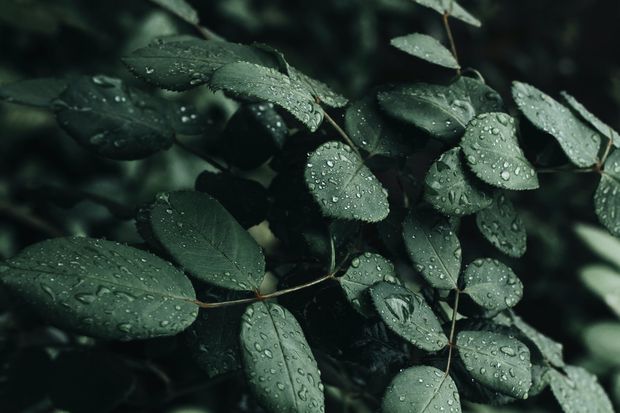 Light
Angel wing Jasmine plant prefers bright indirect sunlight for its optimal growth rather than 5-6 hours of direct sunlight like other jasmine varieties. You can increase the number of hours of sun exposure in the wintertime, especially, if you live in a zone where the winter can get pretty cool. Completely avoid putting your jasminum nitidum under direct strong sun exposure in the summer, as this vine is quote sensitive to heat, and its leaves will burn pretty quickly. Try placing it in an area where it can get partial shade as well.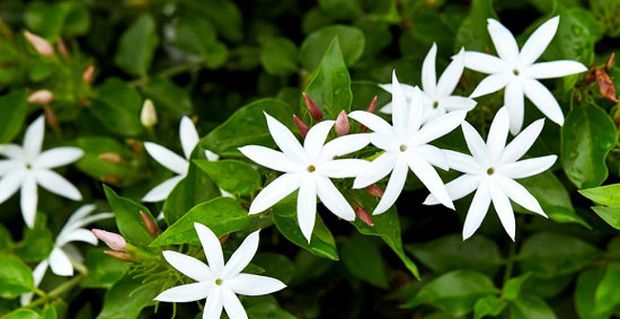 Fertiliser
As we have mentioned in earlier posts, jasmine plants can be pretty challenging to keep alive, vibrant and to reach its blooming stage. For this purpose, it is super important to give our jasmine, and in this particular case, our angel wing jasmine plant, the nutritive support that it needs for optimal growth, root health and production of flower buds. Angel wing jasmine plant needs a feeding process of twice a year with a general purpose, slow release and a water soluble fertiliser to boost the root growth and pest control, if you have an outdoors established plant. This changes to once every two weeks, if our angel wing plant is in a pot for indoor maintenance. A very good tip here to keep the angel wing jasmine plant's foliage vibrant green and hydrated, is to spray once every two weeks, with a diluted solution of water mixed with 10 % of the fertiliser. Not every fertiliser is good to use in our angel wing jasmine, this type of jasmine specie, requires a balanced 10% nitrogen for vibrant, lush and dark green leaves.10% phosphorus abundant, large and fully open flowers. Lastly, 10% potassium for healthy roots and resistance to pests and diseases. Use this fertiliser for optimal growth and blossom in the spring time and you will be hopefully blessed with amazing scented flowers.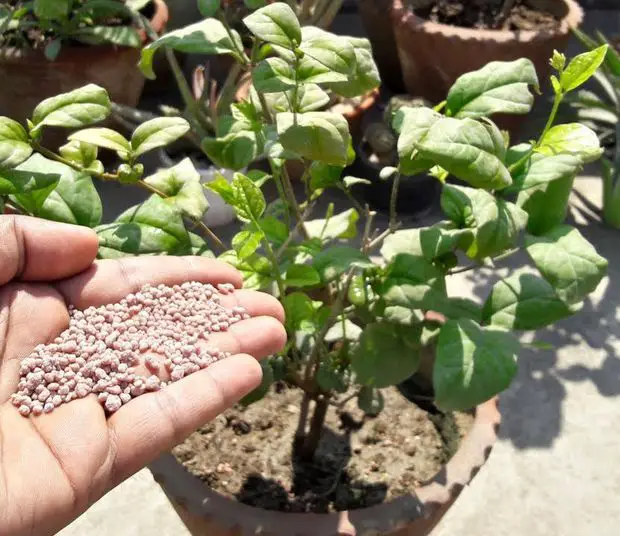 Pruning and maintenance
The ideal time to prune and maintain our angel wing jasmine plant is, late summer to keep the plant compact and dense for the next blooming season. Jasminum nitidum, as a climbing vine, it can reach the 20 feet in height, however, it is a bit delicate and it tends to grow loose, so if you would like it to look dense, it is a good idea to help the shrub with some extra support to crawl up, by using some wooden or plastic trellis or walls.
Angel wing jasmine will grow loose on itself, if it doesn't have a proper solid surface to hang on to and what happens is, the new growth will start growing in a thick bush on top of the old stems and flowers, leading to the death of those and even promoting fungal growth as well. Once the plant is well established, make sure to water it regularly, without drowning it and make sure you trim the edges to make it bushy and full of flowers. If you are looking at how to propagate your plant, use rooting jasmine cuttings late in the summer or fall. You can start with small cuttings of about 6-8 inches from healthy angel wing jasmine stems. Remove all the leaves from that stem, especially at the bottom of that cutting, leave at least a knot behind and make a snip in a diagonal way (this part will go in the sand). It is crucial to dip them in rooting hormone powder or honey and aloe vera, to get that initial boost for establishing the root system. After you have dipped those cutting tips in root hormone tip, place those cuttings in a planter filled up with moist sand and cover it with a plastic bag so that the moisture doesn't evaporate and keep it at room temperature (24-25 C) in a room with good light but away from strong direct sunlight. After a month, you should start seeing some of those roots coming through. At that stage, you can take those cutting and plant them in a pot for establishment of the plant. Once the plant is robustly established, the it is time to move it to the garden.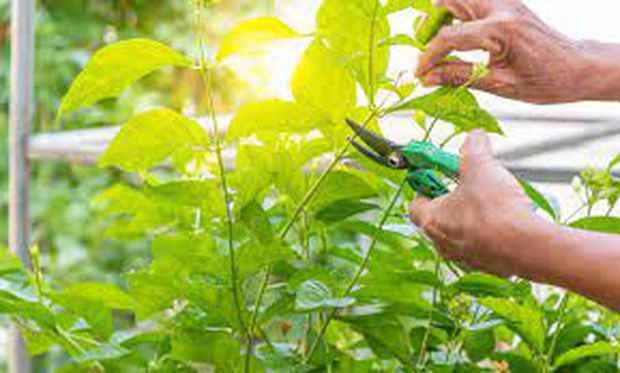 Flowering
The key to flowering this jasmine specie is to subject them to a cooling period (we have mentioned this tip in earlier posts), as we enter in the autumn and winter time, but in this case it won't be just a couple of days rather for a couple of weeks up to three months. In this period of time, the degrees will be dropping slowly but progressively and you will be able to see those little flower buds forming.
The important thing to remember here, is not to get too excited when you see those flower buds forming and coming through and quickly move the plant to a hotter area or an area with a direct source of heat. The buds may fall altogether if you that, meaning you won't get to enjoy flowers on that season or perhaps some of them will get to flower briefly and then fall of as you would be pushing for an artificial flowering cycle.
Another essential step or tip here is, to stop feeding our angel wing jasmine plant at this stage, to really help sustaining this cool period for natural flower bud production. Also if you keep adding fertiliser at this stage, there will be a salt built up in the root system, that our jasmine plant won't be able to utilise it properly in the colder temperature season, and your plant can't actually not cope very well with this salt saturation. It is really important to allow our angel wing jasmine plant that chilled-period to help them reset their flower production hormones to then grow those big and fit flowers that will last for those couple of months in the proper blooming season.
There you go! Hopefully you find these tips useful and get an amazing angel wing plant full of flowers!